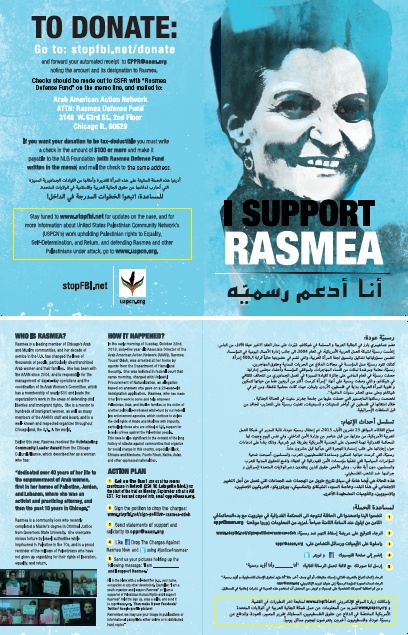 BROCHURES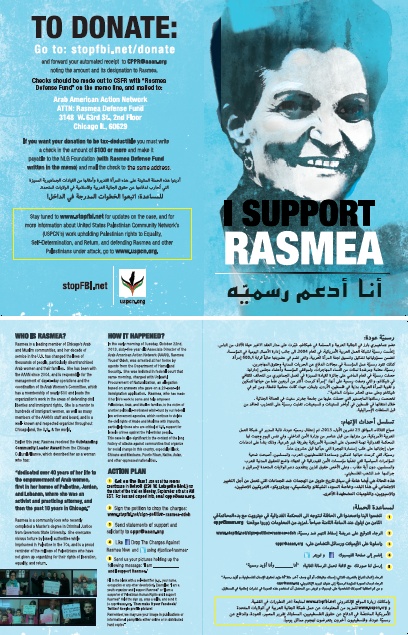 I support Rasmea Brochure (32.86 MB – high resolution)
Statement in Solidarity with All Grand Jury Resisters
(From the Bay Area Grand Jury Resistance Collective)
October 2013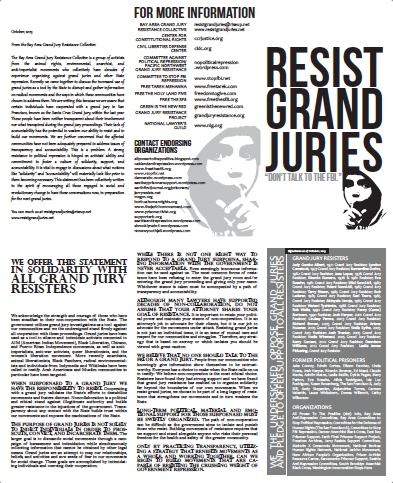 LEAFLETS
Stop the FBI Frame-Up of Carlos Montes (5/13/2012)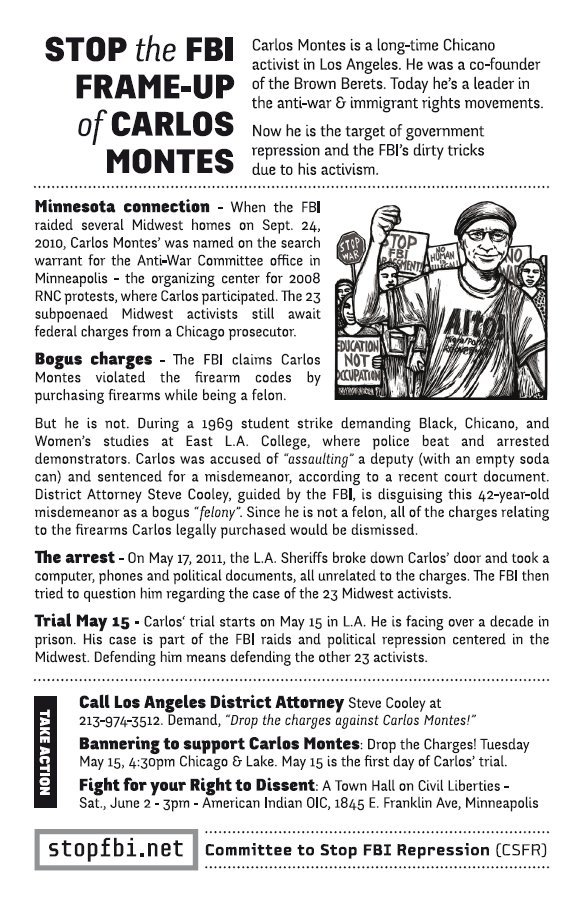 Stop the Repression Against Carlos Montes! (5/1/2012 – Bilingual English-Spanish)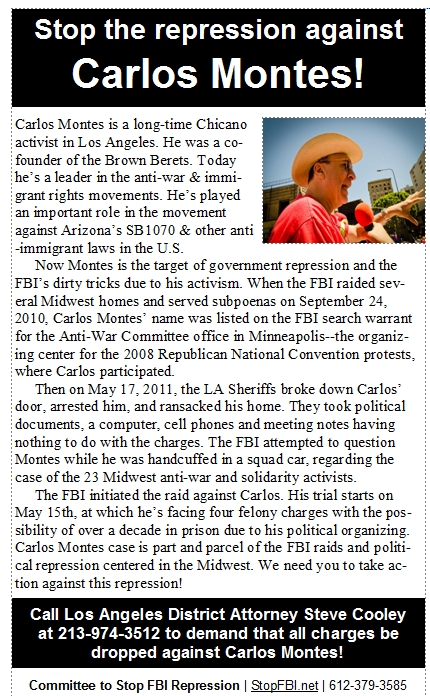 Basic Info Leaflet on the Case (updated 2/2011)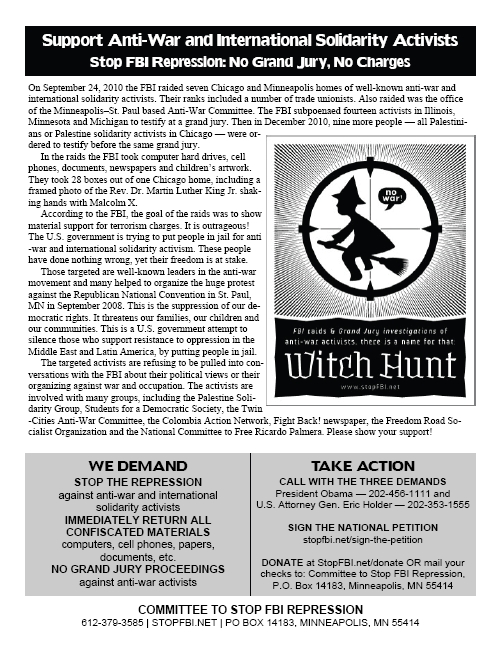 Basic Info Flyer In Spanish / Volante de informacion basica en español (actualizado abril 2011)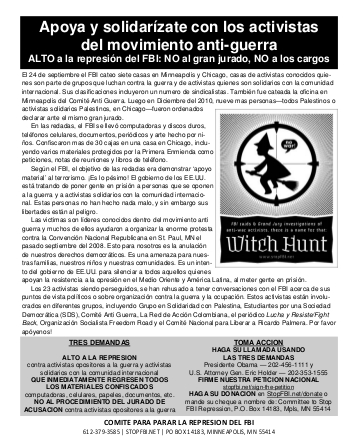 Have you heard there's a Witch Hunt going on? / 12 things you can do 1/2 page double sided flyer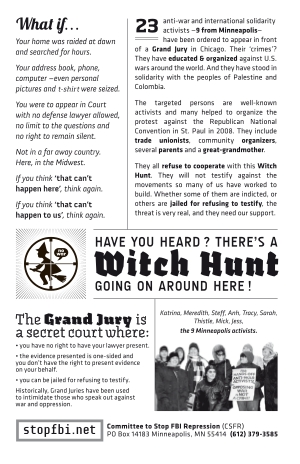 Sign the Pledge to Resist FBI/Grand Jury Repression info sheet with tear-offs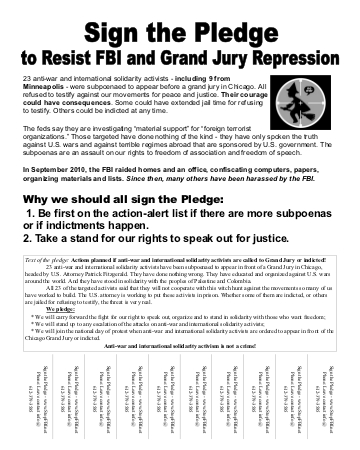 Frequently Asked Questions…and Answers! flyer
12 Ways You Can Help to stop FBI & grand jury repression (updated 2/2011)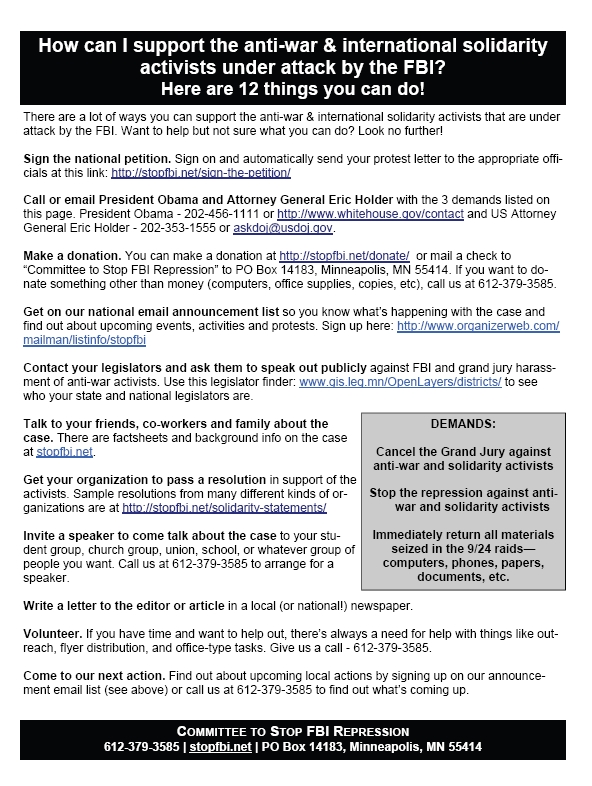 Postcards to Obama and Holder with three demands
From MLK to Today – FBI Attacks Peace and Justice Activists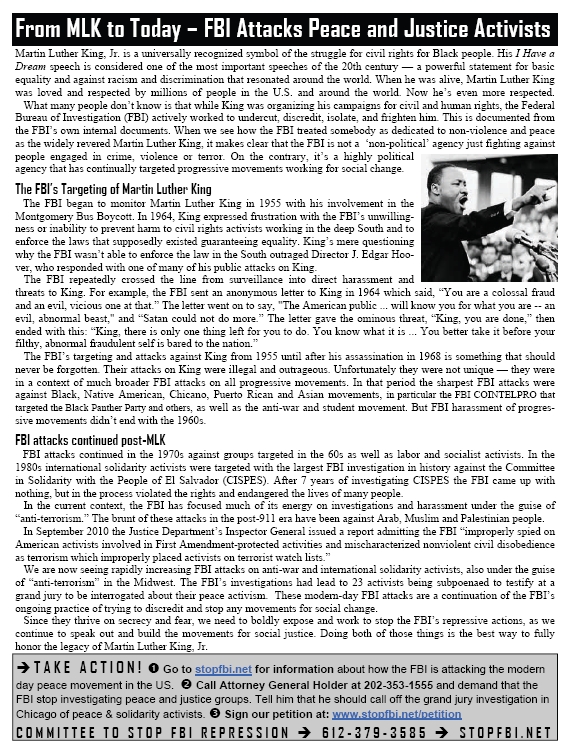 Don't Let the Grand Jury Jail Anti-War and International Solidarity Activists Anh Pham, Tracy Molm and Sarah Martin! (see below)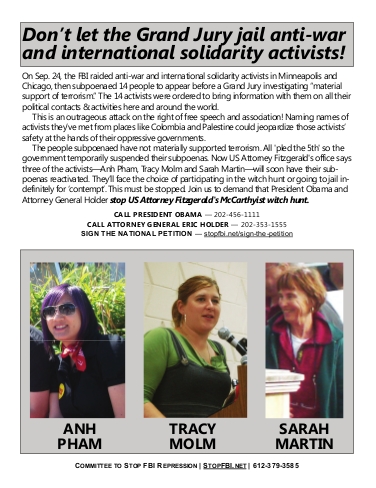 DRAFT LETTERS & RESOLUTIONS
Draft Labor Resolution Condemning Government Attacks you can use this as a guide for writing a resolution to get your union or labor organization to endorse. (Word format. Also see resolutions already passed by unions & labor bodies including AFSCME Council 5, Teamsters Local 705, Duluth Central Labor Body, AFT 1493, South Bay AFL-CIO Labor Council, Troy Area Labor Council, and others)
Article: Why This is a Trade Union Issue by Joe Burns (Printable PDF | article online)
KNOW YOUR RIGHTS
Resources about your rights from the National Lawyers Guild and the Center for Constitutional Rights. Click on the images below to see the complete manuals (PDF format).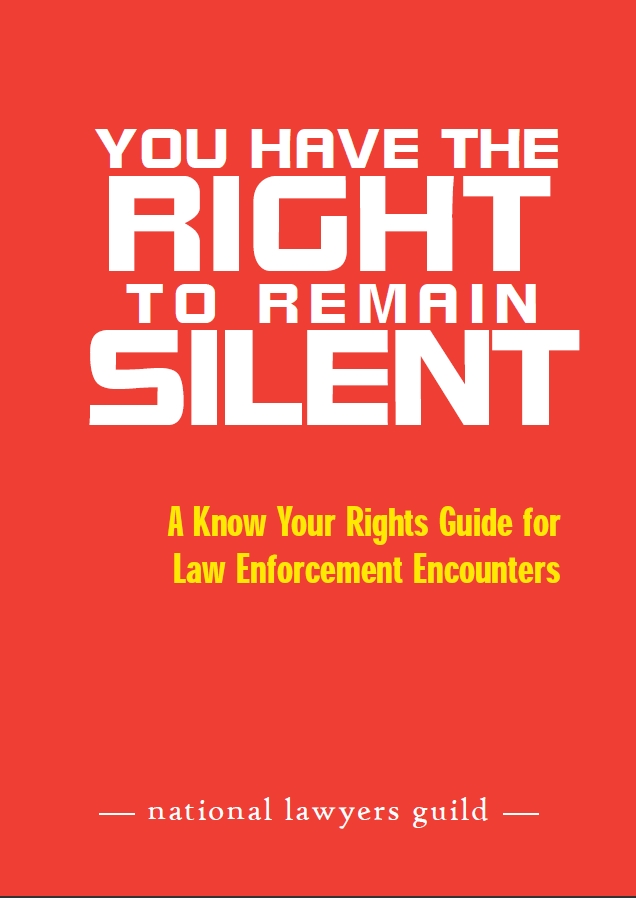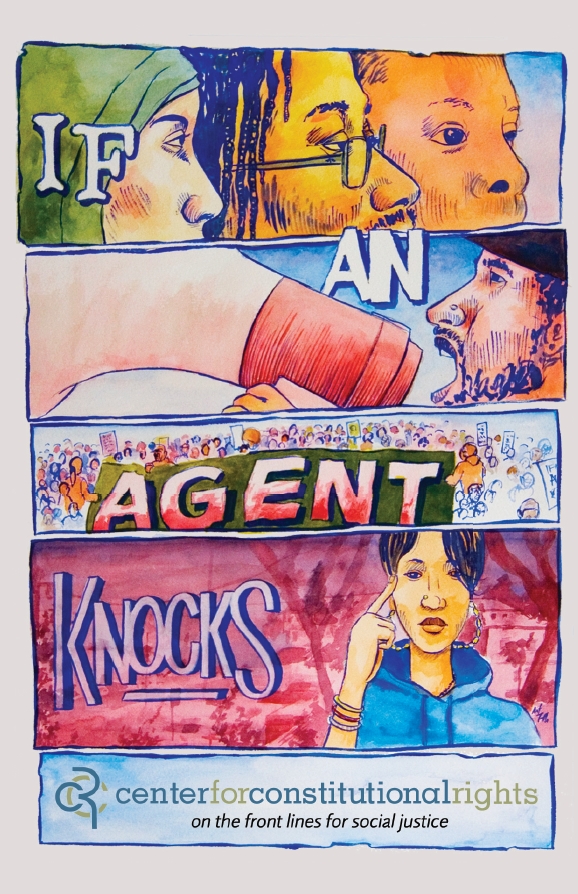 BUTTON DESIGNS
Have a button maker? Make your own buttons to spread the message! Here are some designs you can use.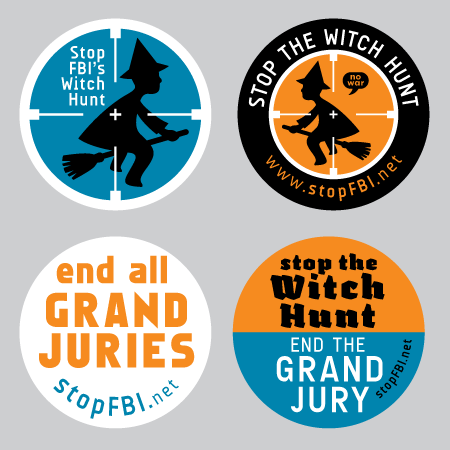 POSTERS / GRAPHICS
These posters & graphics were submitted by supporters. Reuse these graphics freely!
MLK Stop FBI Repression poster by Jacob Flom.
Original poster size for printing up to 24"x36" here: http://www.flickr.com/photos/thewaz/5433240891/sizes/o/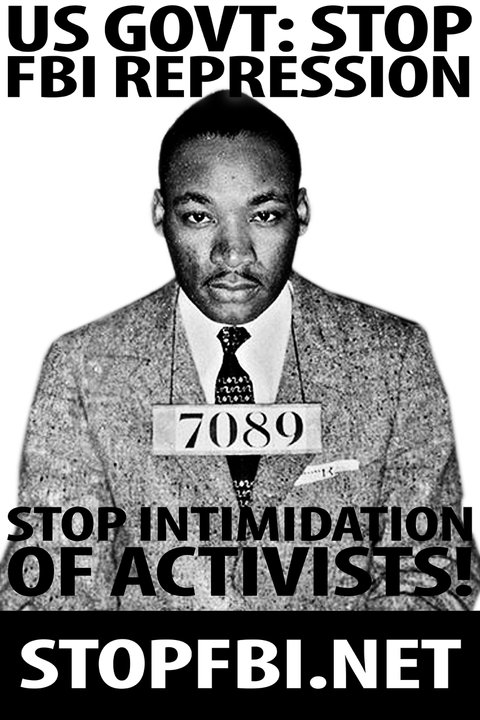 Witch arithmetic graphic
Click image below or here for printable (black & white) PDF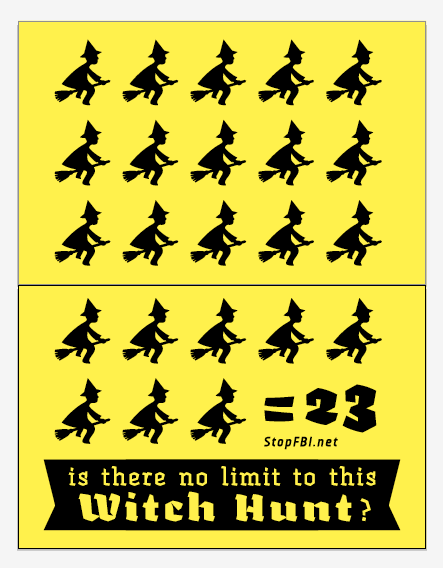 2011 Stop FBI Repression Wall Calendar
(Click on image to download PDF – 11×17 size, but can be printed 8.5×11 too)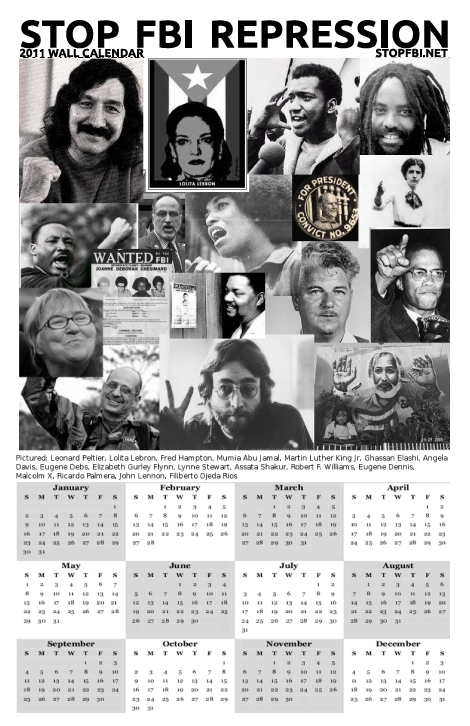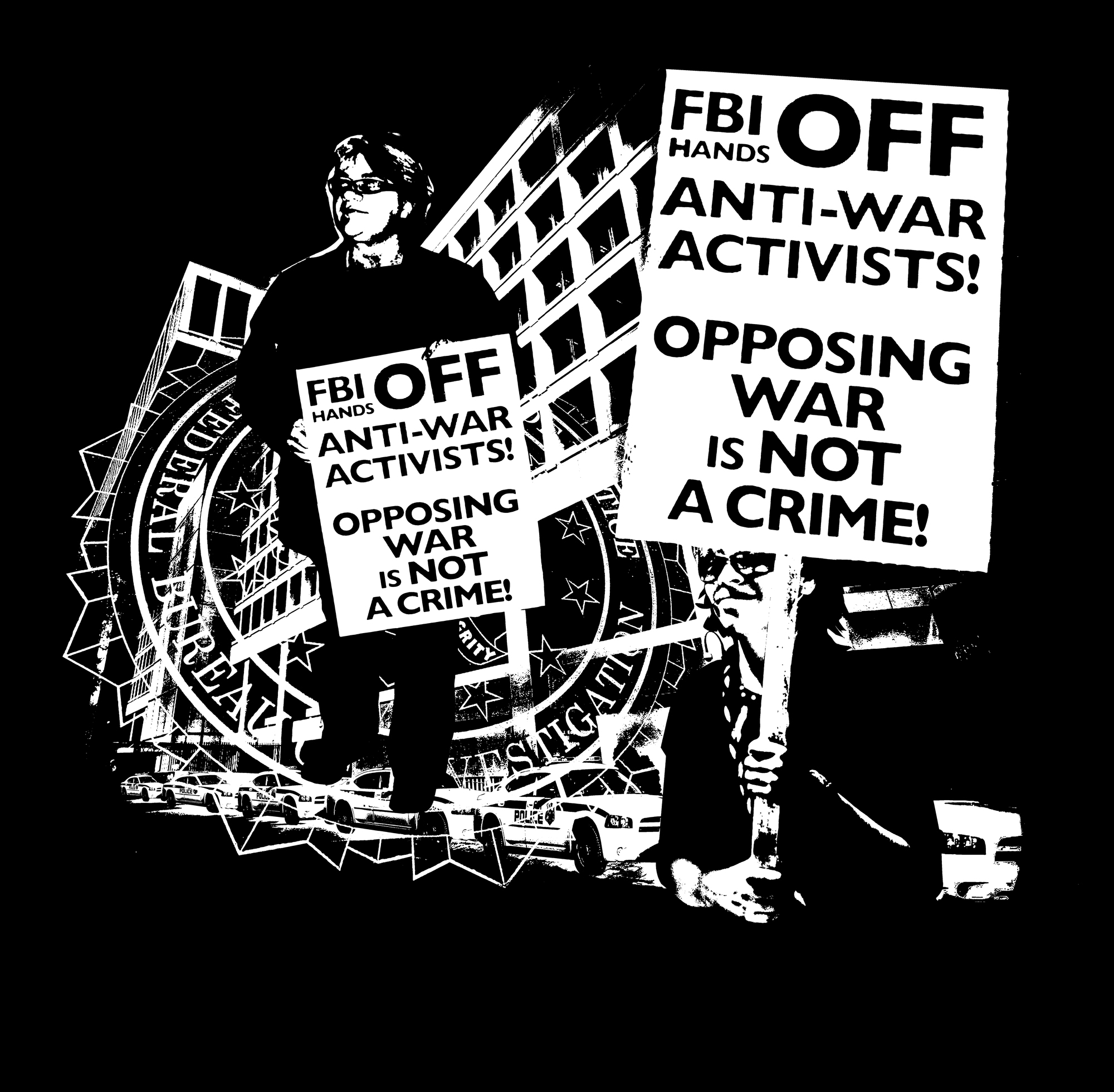 Original of above graphic by Jacob Flom is here.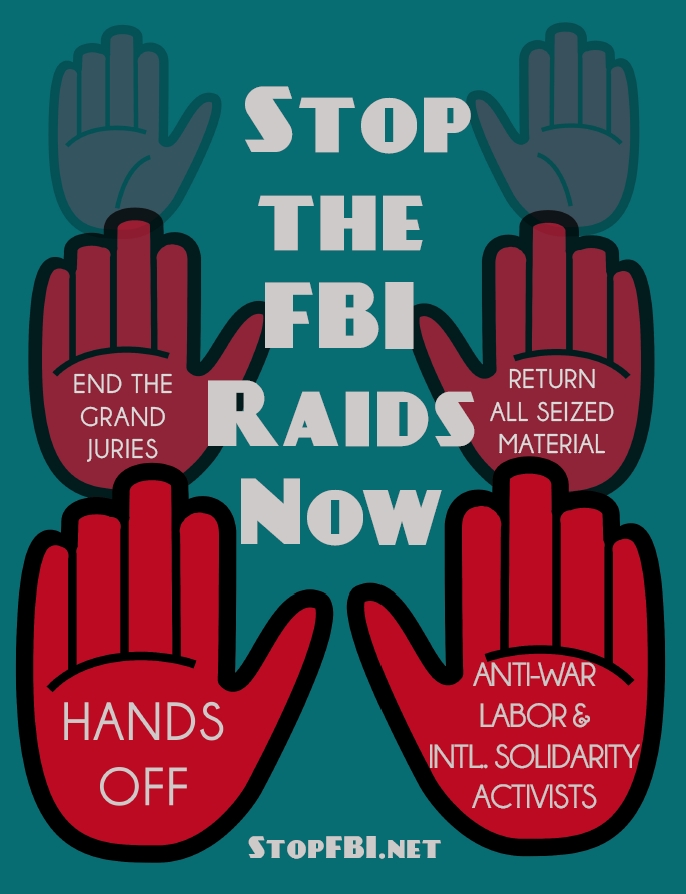 Above poster submitted by Chris Hutchinson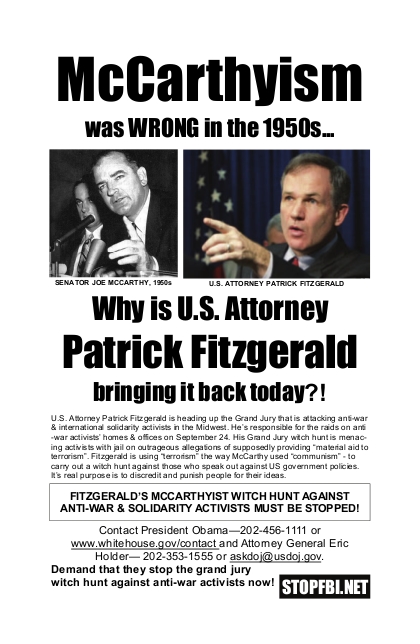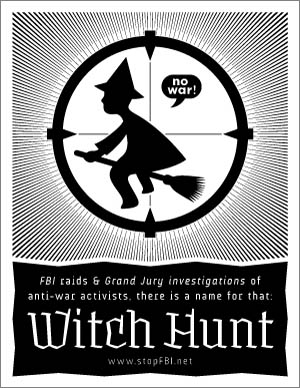 Download "Witch Hunt" Poster PDF