Ten-year anniversary of founding of CSFR: Continue to oppose political repression of the people's movements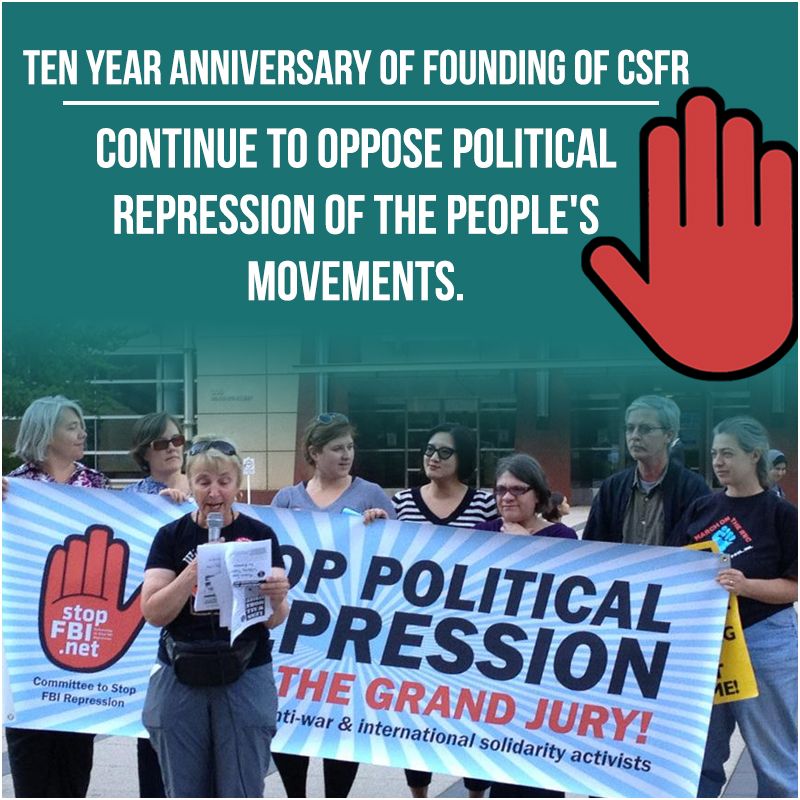 The Committee to Stop FBI Repression came together in response to the FBI raids on seven homes and an anti-war office on Friday, September 24, 2010. The FBI also handed subpoenas to testify before a federal grand jury to 14 activists in Illinois, Minnesota and Michigan. These activists were involved in many groups, including the Twin Cities Anti-War Committee, the Palestine Solidarity Group, the Colombia Action Network, Students for a Democratic Society, several labor Unions and the Freedom Road Socialist Organization.
The activists were subpoenaed to a Chicago-based grand jury investigating 'material support for terrorism.' All of them refused to appear in front of the grand jury and there was an outpouring of support.
The U.S. government uses 'material support for terrorism' charges to choke off free speech, curb freedom of association, and to lock people up. It was an attack on every open and public campaign in solidarity with liberation movements in Palestine, Colombia and the Philippines.
Let us not forget the 500 or so American Muslims framed by the FBI and other agencies using 'material support' laws as part of the bogus U.S. War on Terror. The FBI and prosecutors continue to use paid informants to frame up people. In many cases, they pretend to be your friend. They tried to do this to the Antiwar 23. It is especially treacherous and ugly.
Sheriffs raided the home of Chicano leader Carlos Montes in Los Angeles. Montes faced trumped-up charges, but we defeated the case against him by speaking out and organizing. Then the U.S. government arrested an icon of the Palestinian liberation movement, Rasmea Odeh. An organizer of Arab women in Chicago, Odeh was forced to depart the U.S. after an almost four-year struggle that put Israeli crimes on trial and lifted up the cause for Palestinian liberation.
We recite this history not only to talk about the past or to express gratitude and solidarity with the organizations and individuals stood together to protest the United States government's attempt to silence and criminalize activists. We raise these things because people can use them to learn lessons that are very much relevant to today.
These raids and grand jury subpoenas were serious attacks on anti-war and other progressive movements. Legal or otherwise, any attack on our freedom to speak or to assemble with like-minded people in opposition to government actions and policies is a political attack on the people's movements.
We are still here because we resisted government attacks and organized others to support that resistance. We fought every case and resisted every grand jury subpoena and today we are still out on the streets. We are opposing U.S. wars, standing with freedom fighters around the world and demanding justice for George Floyd, Breonna Taylor and all targets of police crimes. The attacks on today's movement have already begun. We have the experience to defend our movements, and that is just what we will to do.
Join our online event this Saturday! The Fight for Our Movement: 10 Years After the Raids. https://www.facebook.com/events/337314977626767/
---
Justice for George Floyd!
Resist Political Repression of Activists Opposing Police Crimes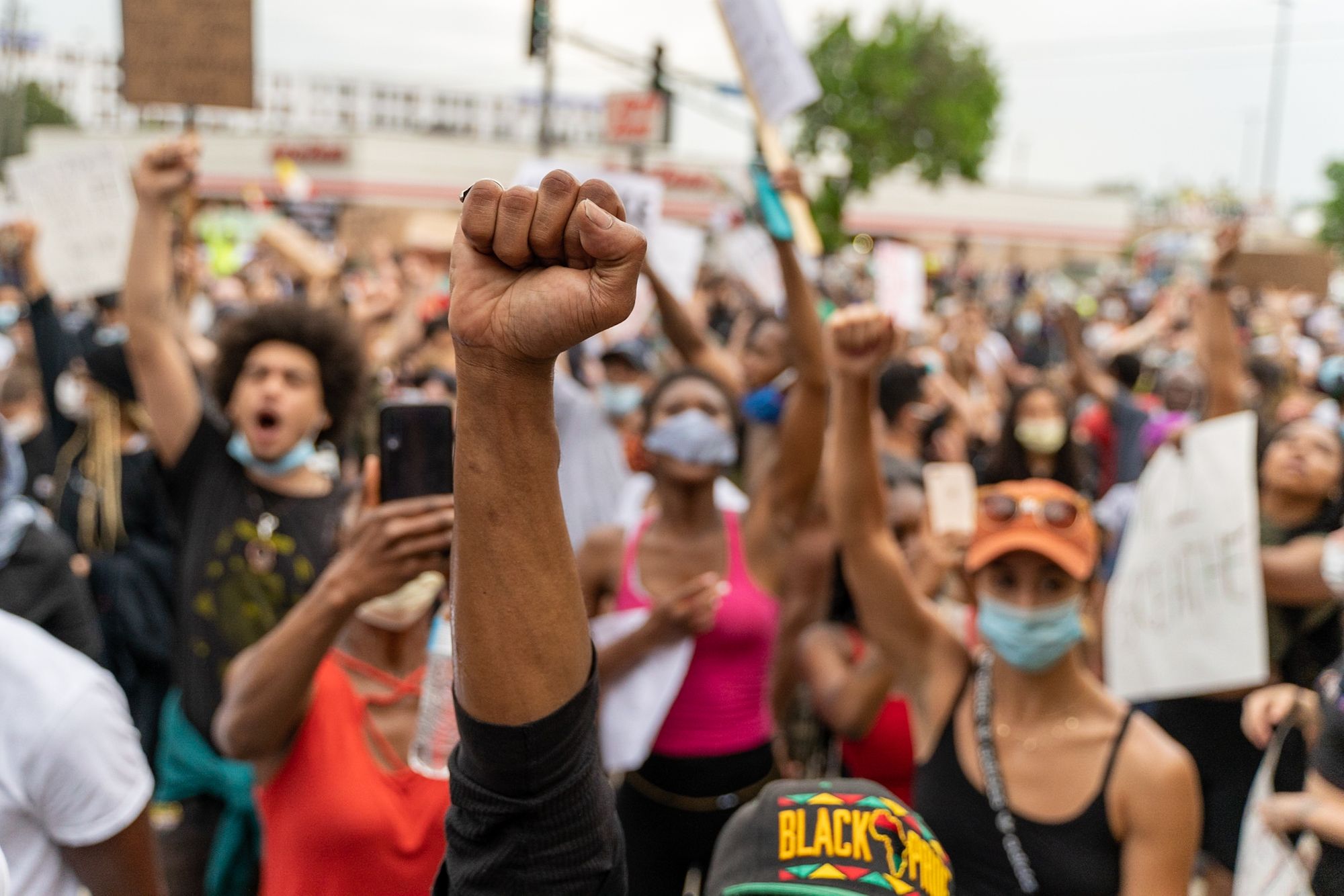 BUILD A WALL OF SILENCE
We know the Minneapolis and other local police, Bureau of Alcohol, Tobacco and Firearms, and the FBI are trying to come into our communities to politically repress activists and participants in the rebellion demanding Justice for George Floyd.
In New York City, the FBI is questioning people arrested for curfew violations about their ties to "antifa".  https://theintercept.com/2020/06/04/fbi-nypd-political-spying-antifa-protests/
This political spying is about sowing fear and trying to repress a political movement.  We can resist by refusing to participate!
REFUSE TO ANSWER ANY QUESTIONS!
It doesn't matter what agency, every word you say will be used against you, your friends, associates and the movement.
Read and share these know your rights materials from the Center for Constitutional Rights and the National Lawyers Guild.