PUBLIC DECLARATION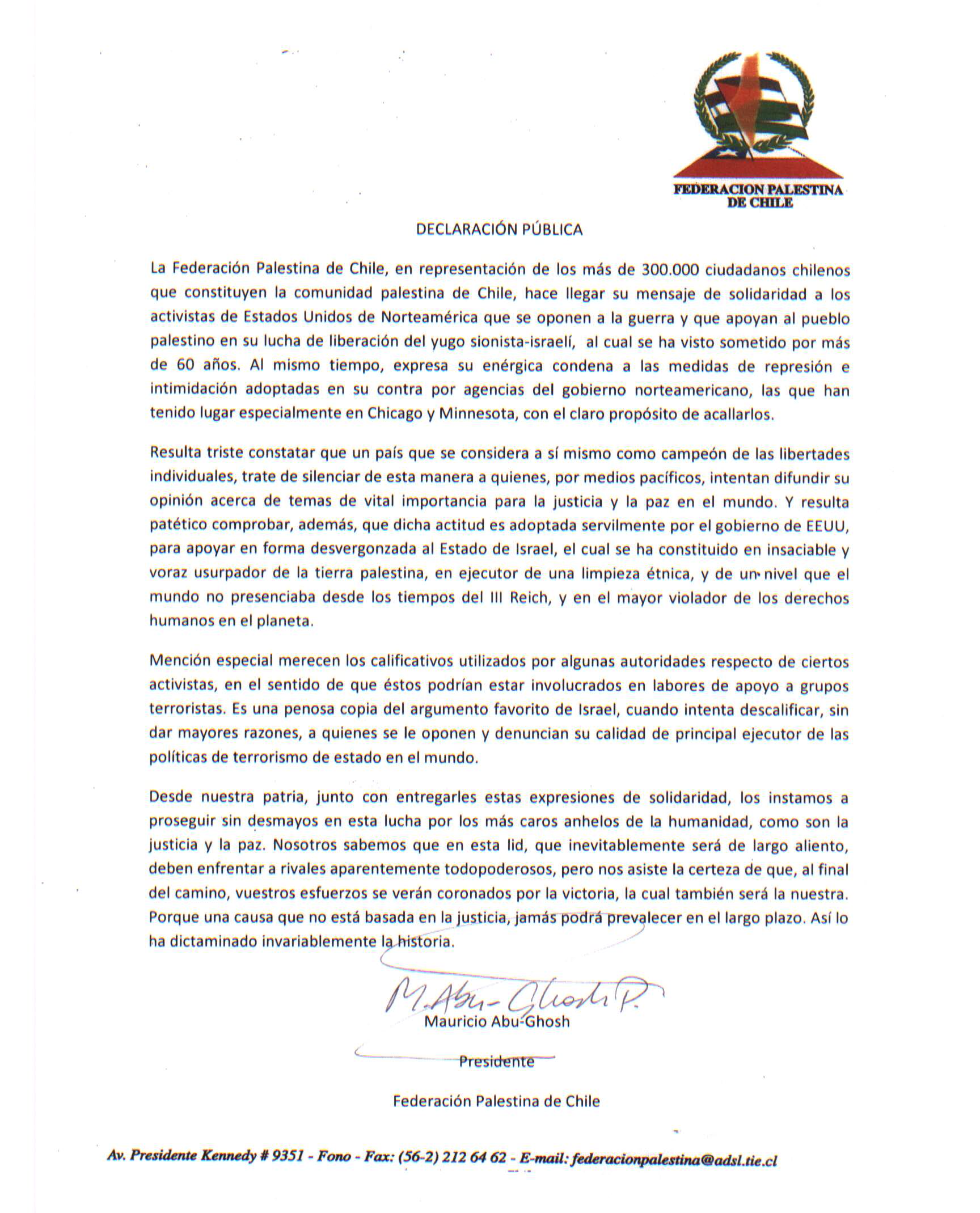 The Palestinian Federation of Chile representing the 300.000 plus Chileans that constitute the Palestinian community in Chile sends this message of solidarity to the North American activists that oppose war and support the Palestinian people in their struggle for liberation from the Zionist-Israeli yoke, under which they have been subjugated for over 60 years. At the same time, we express strong condemnation of the repressive measures of intimidation adopted against them by the agencies of the North American government, especially in Chicago and Minnesota, with the clear intent of silencing them
It is a sad situation to realize that a country that considers itself a champion of individual rights, tries to silence those, that by peaceful means, attempt to disseminate their opinion about issues of vital importance in the pursue of justice and peace in the world. It is pathetic to realize, furthermore, that such an attitude is adopted in a servile fashion by the government of the United States to support, without shame, the State of Israel who has become a voracious usurper of the Palestinian's lands, the executor of ethnic cleansing in a level that the world has not witnessed since the times of the Third Reich, and is the major violator of human rights in the planet.
Special emphasis should be given to the adjectives used by some authorities to describe certain activist groups, implying that they could be involved in providing support to terrorist groups. It is a regrettable copy of the favorite Israeli argument, when it tries to disqualify, without giving a good reason, those that oppose and denounce their role as principal executors of the politics of terrorism in the world.
From our country, besides transmitting our expressions of solidarity, we urge you to continue tirelessly in the fight for the most cherished hopes of humanity, such as Peace and Justice. We know that in this battle, that undoubtedly will be long, you must confront a rival that in appearance is all powerful, but we are certain that at the end of the road, your efforts will be crowned with victory, which also will be ours. A cause that is not based in justice will not prevail. This has been proven invariably by history.
Signed:
Mauricio Abu-Ghosh
President
Palestinian Federation of Chile