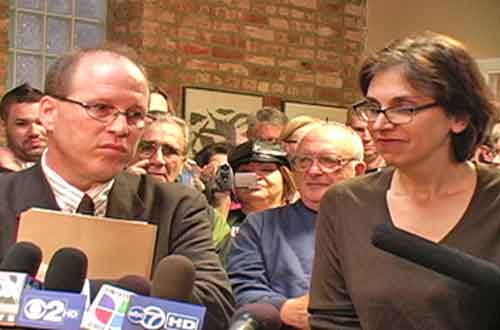 On Thursday, May 12, the House Judiciary Committee voted to reauthorize provisions of the PATRIOT Act. In the debate, Congresswoman Sheila Jackson Lee of Texas spoke against the PATRIOT Act. To show that the PATRIOT Act had led to abuses of civil liberties, she pointed to the case of the 23 anti-war, labor and international solidarity activists facing FBI and grand jury repression. Her office requested a personal letter from some of the Midwest activists being subjected to this investigation, and submitted into the Congressional record this letter from Joe Iosbaker and Stephanie Weiner.
##Letter from Joe Iosbaker and Stephanie Weiner
To: Ms. Christina Weaver –
In writing this letter, it is our hope that you'll see that we are activists who have made many contributions to the struggle for peace and justice, and that Congressman Jackson Lee will write to the Obama administration to oppose the repression we are facing.
On Friday, September 24th, our home was raided by the FBI. We were served a warrant indicating that we were under investigation for providing "material support" to "foreign terrorist organizations." We were also subpoenaed to a grand jury convened for the purpose of this investigation.
Altogether, 25 FBI agents searched our home, starting at 7:00 a.m. and ending at 6:30 pm. They seized our computers, our cell phones, bank statements and other financial documents. They took note books and files from our lifetimes of political activism. They took artwork off the wall. Our family photos were poured through. We watched as the bedrooms of our two sons were each searched for an hour by three agents wearing blue latex gloves. The agents read one son's poetry; they sorted through the other son's t-shirt collection.
As they went through the house, mainly they were interested in any piece of paper with a name and a phone number or email address, what the ACLU's Mike German has referred to as "associational materials."
The violation of our home was bad enough, but the worst was being subpoenaed to the Grand Jury. We learned that we could be cited for contempt of court if we invoked our 5th Amendment rights in defense of our First Amendment rights and refused to appear. And that contempt charges would be enough to imprison us. Because our younger son hadn't turned 18 yet, we had to draw up temporary custody papers in the event we would both be jailed.
We believe that we have been subjected to this because of our long time political activism. Stephanie grew up in New York City, where peace protests were a family event. Joe got involved in the movement in college at the University of Iowa in 1977.
One of the most important movements we were leaders in was the struggle against apartheid. As students at the University of Iowa, we helped lead the campaign for divestiture of companies doing business with South Africa. Like President Obama, we were inspired by the courage and resistance of Nelson Mandela and the African National Congress.
We moved to Chicago following Harold Washington's election to contribute to the struggle for democracy. Stephanie was one of the citywide coordinators of Students for Washington. She was on stage in March of 1987 at the UIC Pavilion for the kick off rally for Mayor Washington's re-election campaign with 17,000 in attendance.
We worked on the elections of Luis Gutierrez for alderman, Miguel Del Valle for the State Senate, and Ray Figueroa for alderman. We campaigned for Jesse Jackson for president while were still in Iowa and then again in Chicago. We continued to support electoral reform by supporting Tim Evans' campaign for mayor in 1989.
In the 1990s we got involved in unions where we worked. Stephanie was a founder of AFSCME Local 3506, was on the bargaining committee and executive board for the Adult Educators in the City Colleges. She still teaches at Wright College and in 2009 she was chosen teacher of the year in her program. Joe became active in SEIU Local 73, and went on to be a chief steward and executive board member as well.
In the days following the terrorist attacks on the World Trade Center in 2001, we stood up and opposed the Bush administration's call for war in Afghanistan. We stood side by side with Hatem Abudayyeh and other leaders in the Arab and Muslim communities and condemned the attacks on their communities by Homeland Security. We also rallied with Barack Obama and tens of thousands of other Chicagoans to oppose the Bush administration's invasion of Iraq.
Stephanie became an activist in the Palestine Solidarity Group against the Israeli occupation of Palestine. Both of us joined with trade unionists from Colombia against US funding for the death squad government of that suffering country.
A high point in Joe's political activism was helping initiate the State Legislative Black Caucus Hearings that Barack Obama participated in at UIC in 1998, which brought an end to 35 years of discriminatory pay practices by the administration there against the mainly Black and Latino work force on our campus.
We marched again and again against the wars in Iraq and Afghanistan. In the summer of 2008, we travelled to St. Paul, MN, to protest outside the Republican National Convention. Joe was the bus coordinator from Chicago and spoke at the rally in front of the Minnesota capitol on Labor Day to 30,000 people.
Our family walked into Grant Park on election eve in 2008, to relish in the achievement of Barack Obama's election and to stand with the 10s of thousands there that had helped make history – to elect an African American to the White House. We were there also to celebrate an end to the criminal regime of George W. Bush and Dick Cheney.
We believed President Elect Obama when he said that change only happens from the bottom up. That's why we supported delegations of activists going to the Middle East and Latin America to bring home the stories of people suffering from the regimes that our government funds and allies itself with.
This is our story – a story of lives committed to peace and justice. We don't want the FBI and grand jury repression of us to send a chill through the anti-war and international solidarity movements. We believe that is its purpose. We are waiting now for the next shoe to drop, for US Attorney Fitzgerald to subpoena more activists; to impose limited immunity so as to hand out contempt citations and jail some of the 23 activists for refusing to cooperate with his grand jury; or to bring indictments against some or many of us.
Again, we ask Congressman Jackson Lee to write to President Obama and Attorney General Holder to express concern about the FBI and Grand Jury repression of us and the other 21 anti-war and international solidarity activists.
Sincerely,
Joe Iosbaker and Stephanie Weiner